2015 Synapse Residency Program
Synapse, an initiative of the Australia Council for the Arts and ANAT, supports collaborations between artists and scientists
The following Australian artists were awarded Synapse residencies in 2015:
Eugenie Lee + Body in Mind + Neuroscience Research Australia + University of Sydney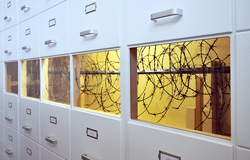 Building on her 'Amplify Your Art' residency supported by Arts Access Australia in 2014, Eugenie worked with Dr Tasha Stanton and Professor Philip Poronnik to create simulations of chronic pain experiences within a virtual environment. The team investigated how altering sensory perception using VR technologies might contribute towards the development of a therapeutic tool for chronic pain management.
http://lee2015.blog.anat.org.au
Image: McGill Pain Questionnaire (detail) 2012, Installation at Sydney College of the Arts. Photograph by Eugenia Lee.
---
 Dr John McCormick + Deakin University's Motion.Lab + Centre for Intelligent Systems Research
For the past decade, John has been researching movement tracking and simulation techniques for use within live performance environments. He worked with Professor Kim Vincs and Associate Professor Douglas Creighton to explore the use of haptic and robotic technologies to make dance performance more accessible to audience members who are deaf-blind, blind or vision impaired, and otherwise excluded from fully experiencing live performance.
Image: Verbose Mode by John McCormick with dancer Steph Hutchison (still image) 2014.  Performed at Motion.Lab, Deakin University, Melbourne.
---
Dr Trinh Vu + AMAERO Engineering + Monash Centre for Additive Manufacturing
Building on her long-term engagement with additive technologies, Trinh worked with Professor Xinhua Wu and her team to test the constraints and potentials of 3D printing with metal powders. The investigation focused in particular on the characteristics and conventions that result when bringing the immaterial world of digital technology together with the physical materiality of sculptural form.
http://vu2015.blog.anat.org.au 
Image: Blue Skies (detail) 2011.  Installation at the State Library of Victoria.  Photograph by David McArthur.